Certified Rural Health Professional Training - Scholarships Available, a $600 Value
What is the Certified Rural Health Clinic Professional Course (CRHCP) ?
RHCs have unique rules and regulations that require specialized knowledge and expertise. The course is designed specifically for Directors, Clinic Administrators, and other RHC leaders and covers all aspects of operating a successful RHC, including federal and state regulations, billing and coding, financial management, human resources, and more. Industry experts will provide you with the tools and resources needed to effectively manage your clinic, ensuring that it thrives and grows. 
Scholarships:
We are excited to offer a limited number of scholarships valued at $600 for those interested in completing the course! Applications must be received by August 31st, 2023. Click here to download and fill out the application. Please return it to Christin McWhorter, [email protected].
What Will I Learn in the Course?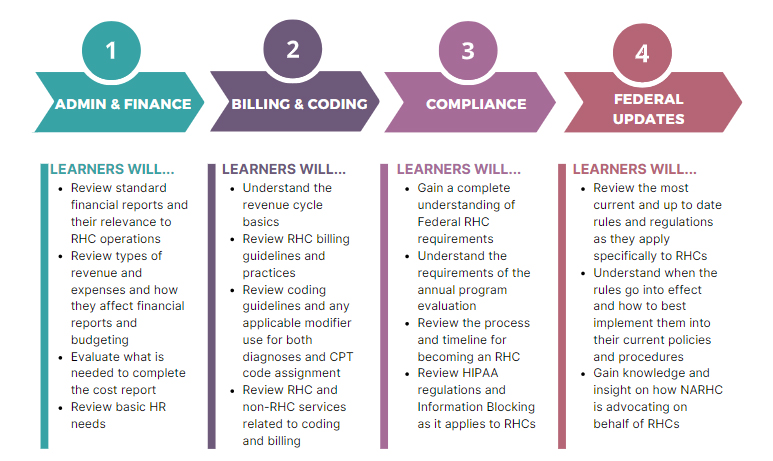 What is the format of the course?
This is a self-paced online course with a proctored online Final Exam. The online learning material consists of written content, videos, and short quizzes throughout each module.
How long will it take me to go through the course?
There is approximately 12 hours of videos accompanied with PDFs and/or course workbook. Most people require 4-6 weeks to complete.
Are there any prerequisites to this course?
There are no pre-requisites required for this course. It is written at the basic level and should be considered the starting point or the minimum you need to know to become a Certified Rural Health Clinic Professional.
This project is supported by the Health Resources and Services Administration (HRSA) of the U.S. Department of Health and Human Services (HHS) as part of an award totaling $300,000, under Award # 1 D06RH49185‐01‐00 with 0% percentage financed with non-governmental sources. The contents are those of the author(s) and do not necessarily represent the official views of, nor an endorsement, by HRSA, HHS, or the U.S. Government. For more information, please visit HRSA.gov.
Share this post: