Department of Labor Recognizes RHA of TN Apprenticeship Program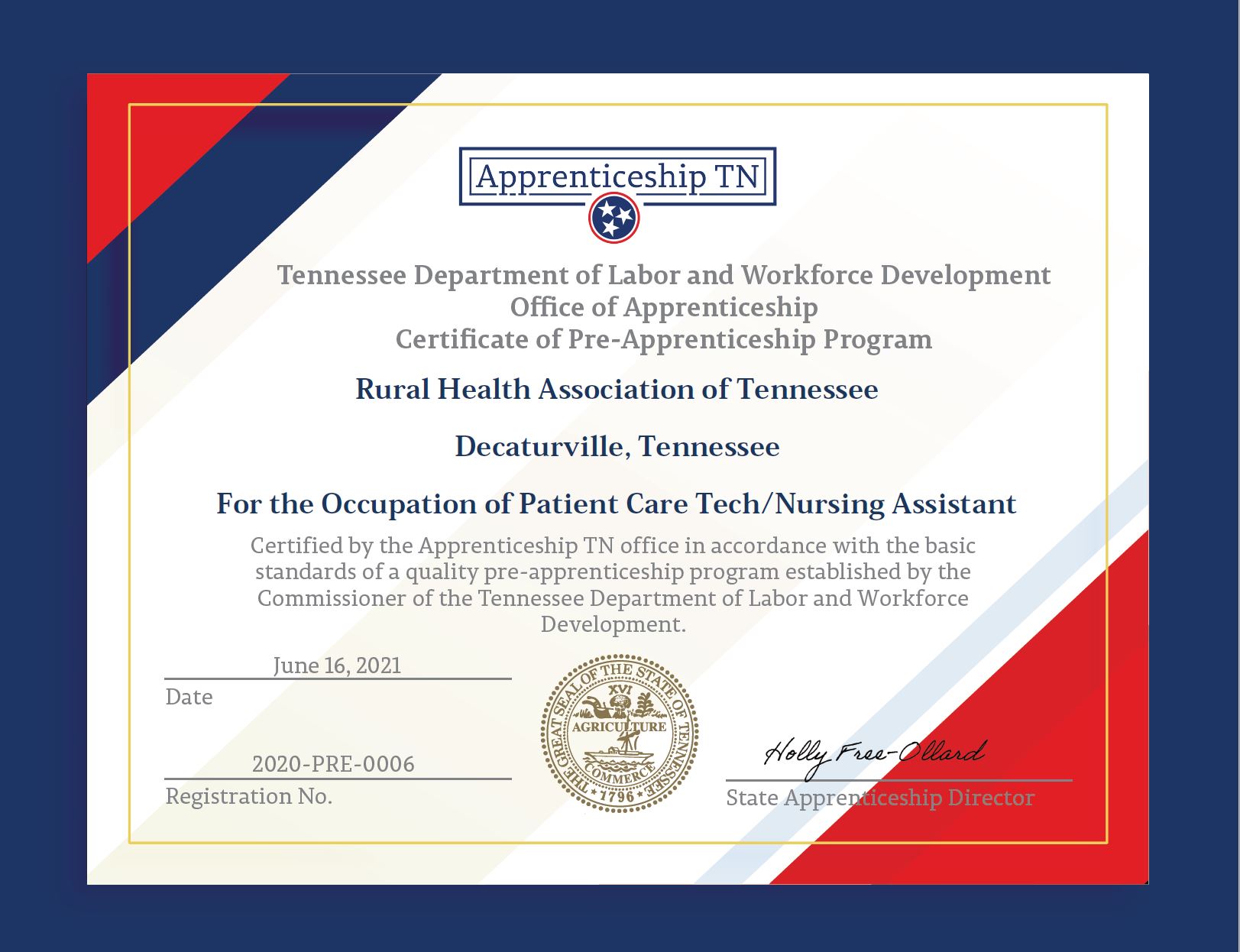 Rural Health Association of Tennessee (RHA of TN) is proud to have recently received approval as a registered Apprenticeship Program by the United States Department of Labor and a pre-Apprenticeship program by Tennessee Department of Labor.
This spring RHA of TN worked with West Tennessee Healthcare to register an apprenticeship program for Patient Care Tech/Nursing Assistant roles. Apprenticeships are paid on-the-job work experiences paired with mentoring over the course of 2000 hours. When requirements of the program are met, apprentices receive a nationally recognized certificate in their field.
Apprenticeships are also great value for employers with a return on investment of $1.46 for every $1 invested in an apprentice, according to sources cited by the U.S. Department of Labor. Importantly for healthcare professions, apprentices are shown to have higher retention rates, more engagement, and often choose to advance in their professions.
"This pilot program addresses two important needs in West Tennessee," said Jacy Warrell, RHA of TN's Executive Director. "Youth unemployment is higher in West Tennessee, which we know has important health consequences. Additionally, recruiting and retaining healthcare professionals is important in addressing access to care issues."
With an officially registered program, RHA of TN may now begin recruiting and placing eligible youth into the pre-apprenticeship program that builds soft skills for employment. While in the pre-apprenticeship program, youth will be screened for interest and aptitude in healthcare professions then referred to partnering healthcare organizations for an interview and ultimately job placement.
To learn more about RHA of TN's apprenticeship program email [email protected] or call (615) 907-9707.
For general Apprenticeship information, visit Tennessee Department of Labor, Office of Apprenticeships. 
Share this post: